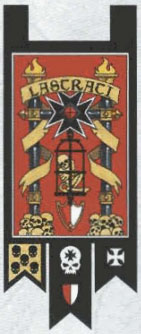 Name: Second Purging of Lastrati Crusade
Date: 543.M36
Marshal: Marshal Gervhart
Chaplain: ?
Champion: ?
Forces:
334 Black Templars or less
Friendly Forces:
?
Enemy Forces:
heretics
Location: Lastrati
Segmentum: Ultima Segmentum
Sector:
Sub-Sector:
World Classification:
Overview:
Marshal Gervhart landed on Lastrati briefly to pay his respects while engaged in the Athalor Crusade, only to find a population corrupted by the influences of heresy. Gervhart immediatly declared a new Crusade to rid the world of the tainted. The population was purged and only those found free of corruption were spared, later to Gervhart's detriment.
Source: pp19,50 C:BT 4th
Notes: The count of 334 templars is only made as an assumption since the Crusade was originally the Athalor Crusade prior to the brief landing on Lastrati as a "side trip." Assuming some battle casualties were possilbe during the initial Athalor Crusade, it is safe to assume that there may have been less at the start of the Second Purging. The difference may be purely academic.
There is great discrepancy regarding 'Marshal' Gervhart. When a Marshal perishes, succession is decided by ritual combat. The winner is promoted to Marshal after approval by the High Marshal. As stated in the section The Sword Brethren, only a single ritual combat winner was
not
approved by the High Marshal, in an incident called the "Gervahrt Repeal of M36" (p13 C:BT 4th).
It is reasonable to assume that the name is a misspelling (Gervahrt vs Gervhart). It is also reasonable to assume that the "Gervahrt Repeal of M36" was regarding 'Marshal' Gervhart due to his decision to spare some of the civilians (same Millennium, M36). Therefore it is possible that Gervhart may only have been a Castellan and not a full Marshal during the prosecution of this Crusade.
The only other possibility is that "Gervahrt Repeal" literaly means that he was promoted, having him as a Marshal long enough for this campaign, and then demoted for his leniency, and that the wording on page 13 is incorrect that his nomination was immediately shot down rather than being accepted and then later rejected. I find this scenario less likely but compelling enough to mention.