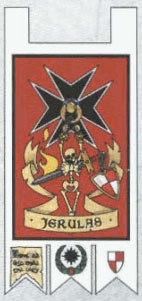 Name: Jerulas Crusade
Date: 645.M39
Marshal: High Marshal Ludoldus
Chaplain: ?
Champion: ?
Forces:
417 Black Templars
Friendly Forces:
Preachers from the Missionarus Galaxia
Enemy Forces:
heretics
Location: Jerulas System
Segmentum: Ultima Segmentum
Sector:
Sub-Sector:
World Classification:
Overview:
High Marshal Ludoldus acted in retribution against the citizens of the world who had acted against missionaries bringing the word of the emperor to the population. The people of the Jerulas system had been out of touch with the Imperium and massacred the preachers from the Missionarus Galaxia. The preachers returned with a contingent of Black Templars led by High Marshal Ludoldus. Rather than starving the population into submission, the High Marshal instead chose to put the Jerulas system to the sword and meted out the Emperor's justice without mercy.
Source: pp43,50,63 Codex: Black Templars 4th Edition
NOTE:
Blueprints for a new pattern Land Raider were discovered during this conflict. As a result the Land Raider Crusader first saw battle. (p43 C:BT 4th)